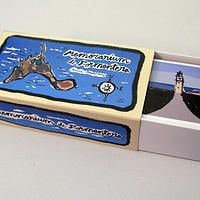 €

20.00
EL JUEGO DE MEMORY
¡Para el Memorarium de Formentera se debe tener mucha memoria! Pon las cartas boca abajo y destapa dos. ¿Son iguales? ¿Sí? ¡continúa tu turno! ¡Gana quien encuentra más parejas!
Contiene 26 imágenes de la isla con su parella.
THE MEMORY GAME
The Memorarium de Formentera will help you to train your memory! Put the cards face down and turn over two. Do they match? If so, continue your turn! Otherwise, turn them over again and swithc the turn! The player who finds the most pairs wins!
Inside the box: 26 different images of the island with the other copy.
If your country is not on the shipping list yet. Email me at anna.ametller@gmail.com
IL GIOCO DI MEMORIA
Per il Memorarium de Formentera bisogna avere molta memoria! Metti le carte a faccia in giù e scorpine due. Sono iguali? Sí? è ancora il tuo turno! No? Girale di nuevo e passa il turno! Vince chi trova più coppie!
In gioco: 26 immagini diverse dell'isola + 26 copias.